During the last months I've been working on this helios profile for the BS2 KA50.
I have gather the profiles that had been published before, revised all functions and rebuilt a new
profile with the best of each one, adding new features not previously available.
Key bindings has been developed to operate in various international keyboards as well.
I have rebuilt the entire graphic art, based on screenshots of the simulator, the HR cockpits by Ricardo, and several other graphics designed by spike, Higgins, and Calwpower.
I have also used the airport charts from http://www.virtual-jabog32.de and the tactical chart TC-1 created by =MAF=Mongoose and the NDBs list created by Lino_Germany
I want to thanks them all, and of course, I want to thanks Windfire and Frasboob, from the KA50 wing from the spanish Escuadron-69, which have been commissioned to test in depth the profile to identify possible errors.
And of course to Gadroc for creating this great software.

PROFILE FEATURES:
DCS 1.2.12 tested
- Main window panels: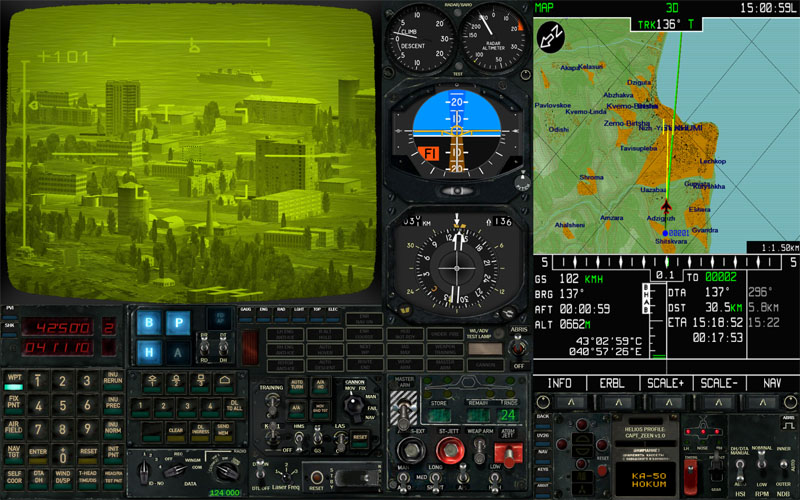 -Gauges section with vertical speed indicator, interchangeable baro/radar altimeter width test and safety indicator controls, HSI and ADI.
-PVI keyboard, width clear spaces to configure pvi numbers viewport on monitor configuration.
-Autopilot panel.
-Data link panel.
-Identification panel with radio selector for fast use.
-Main alarms panel with master alarms, the more important light indicators and test lamp buttom.
-Laser control panel.
-Targetting panel.
-Weapons system panel.
-laser alarm system.
-Ekran panel width space for the monitor config.
-Gears control and indicators panel.
-Handy switches panel, width rpm, NDB and HSI switches.
-Abris control buttoms.
-Empty spaces to include abris and Shkval viewports using monitor configuration.
- Electric panel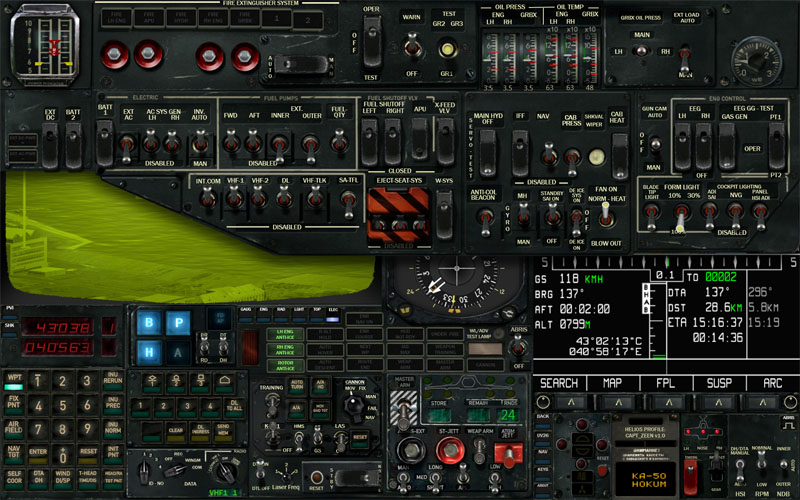 Complete electric panel, width power indicators and oil press and oil temp dials full working!
- Gauges panel and UV26 panel:
6 main indicators, with control for QFE for barometric altitude and test and safety altitude alarm for the radar altimeter.
Complete uv26 panel width space for monitor config.
- Engines panel and back panel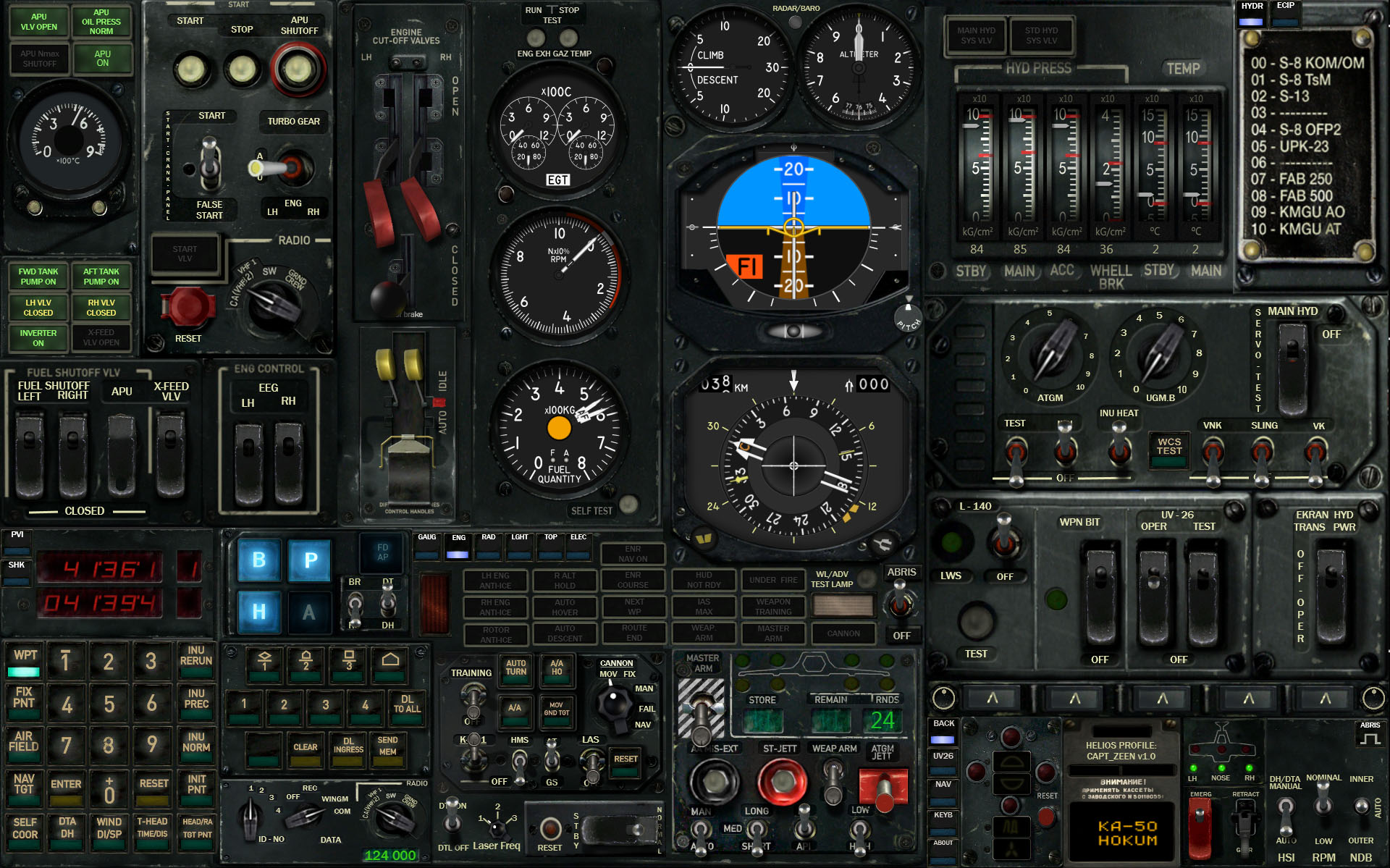 APU panel, width light indicators and dial indicator.
Start engines panel.
Lights indicator panel for engines valves and xfeed.
switches panel with left, right and APU valves, xfeed and EEG controls.
Engines throttle levers, rotor brakes, and cut-off valves.
Indicators panel for rpm, temp and fuel qnt, withdh test buttoms.
Ekran switch, inu switches, uv26 switches, bomb controls.
Hydraulic section width full working dials for Press and Temp and main hydraulic switch
Eject systems, eng and betty controls
- Lights panel: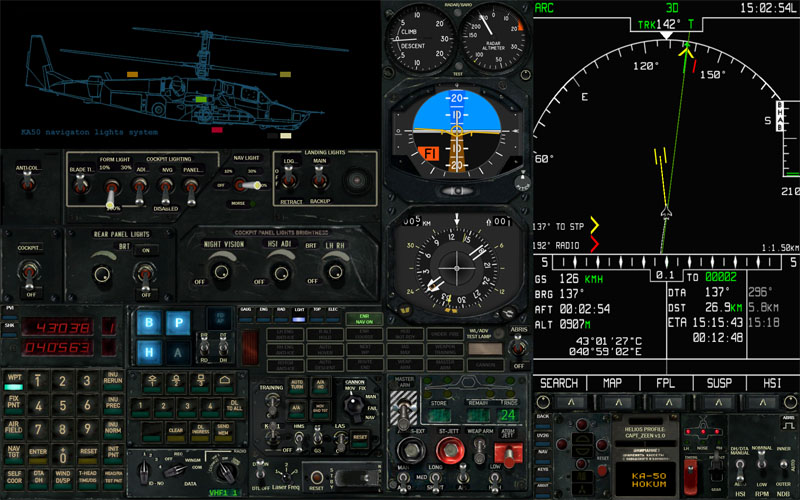 All light systems merged in one place.
Morse code control for navigation lights.
KA50 navigation light system working display .
- Radio panel: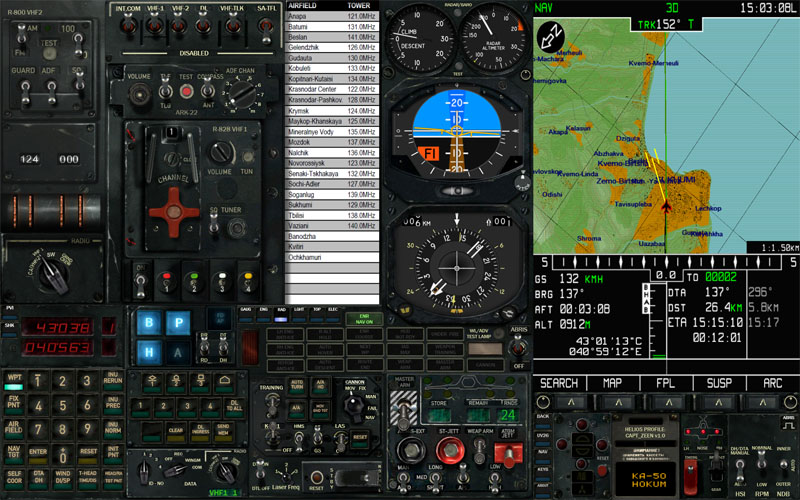 Radio R800
Radio R828
ARK22
Signal flares panel.
Accsess to all radio switches from electric panel.
Tower radio frequencies table
- Overhead panel:
Complete overhead panel, even with working pitots test and morse code control
- Navigation panel: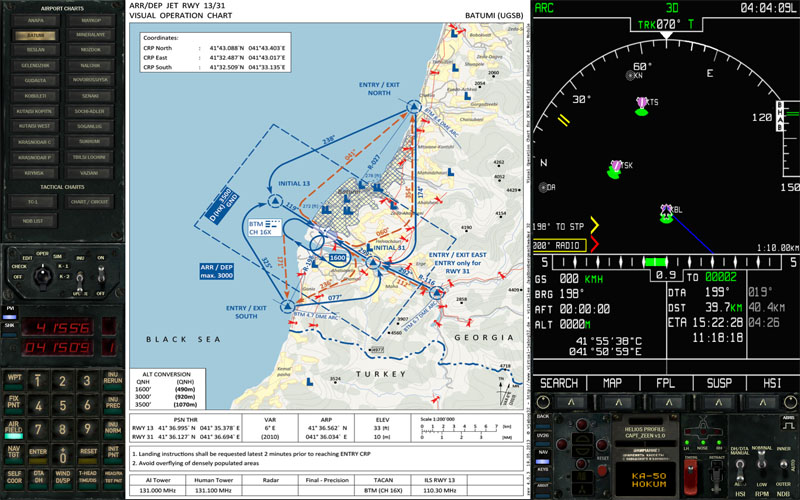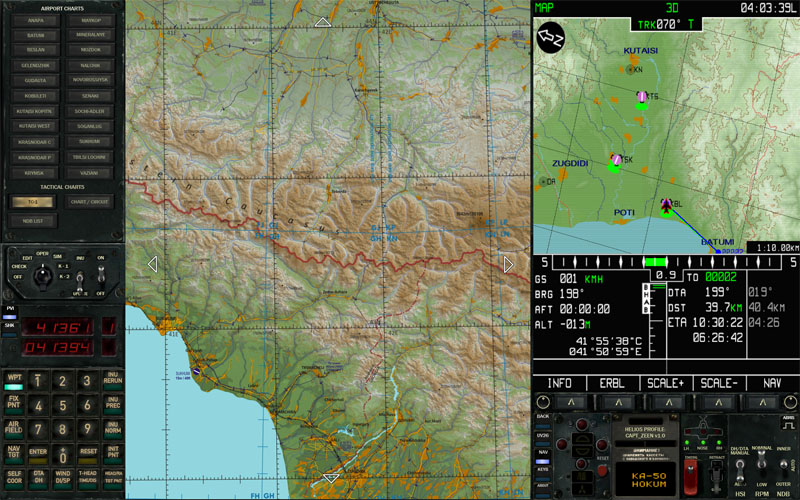 Designed to use with full pvi and abris view, at the same time.
Airports visual operation charts v4.04
Airports diagramss v4.04
TC-1 Tactical Chart
Caucasus general area map, with airports and table width freq, locations, ids, etc.
Airport Circuit Example
List of the NDBs
- PVI control panel:
Power control for pvi
- Shkval panel:
Main controls for the HMS and shkval
- Keyboard panel:

- Panel to change internationals keyboards
- About panel:
- Info about the profile and version.



INSTALATION
-Install Helios if you don't have it yet. (http://www.gadrocsworkshop.com/helios/latest)
-Copy the profile on the profiles folder, usualy in user/my documents/helios/profiles
-Copy the folder Capt_Zeen on the images folder, usualy in user/my documents/helios/images
-Run the HeliosProfileEditor, load the profile Capt_Zeen_KA50, and perform a Reset Monitors from the menu Profile.
-In the profile explorer window, double-click over Interfaces/DCS Black Shark line, then enter the path for DCS World, on the Black Shark Setup window and click on Setup Black Shark buttom.
-Save the profile
RUNNING THE PROFILE
-Open the Helios Control Center, select the profile and start it.

INTERNATIONAL KEYBOARDS
Some switches and buttoms use key bindings that can be different depends of the keyboard you are using.
I prepared 5 diferent setups for spanish QWERTY, english QWERTY, italian QWERTY, german QWERTZ and french AZERTY, so you can start the one you need, but you can change it on the profile, aswell, using the keyboard panel selector.
For other foreigner keyboards, I included on the images/Capt_zeen/docs folder a txt width a keyboard table and the switches that probably you'll need to change if your keyboard assignaments dont work well.

CONFIGURING THE SECOND MONITOR
included in the package, there is a folder called "DCS Monitor Configuration" width a complete folders structure you can drop on DCS World instalation folder.
This structure prepare the diferents lua scripts to export the views to the second monitor to represent the Abris, Skhval, PVI digits, Ekran and UV26 digits.
You will need to change the coordinates x and y of every viewport and the width and height sizes of them in the DCS Monitor Configuration\Config\MonitorSetup\2_monitors-KA50.lua
Change it before copy to the game folder, and save a copy of this structure, couse DCS world rewrite this files every update!
To calculate the correct position of each viewport, run Helios and start the profile. Activate the uv26 panel and take a screenshot using print screen key on the keyboard, and paste the image in any art program. Paint from Windows works well. Put the cursor over the left-up corners of every empty spaces and write down the coordinates. Drag a box from that point to the right_down corner, and take the width and height of the rectangle.
Modify the 2_monitors-KA50.lua width your correct numbers. and you can now copy the complete "DCS Monitor Configuration" folder to the DCS game folder

KNOWN ISSUES
Despite everything works nicely, there are some minor known issues, for some reason some inputs from DCS dont work anymore:
-Fire extinguishers Work/Off/Test Guard, dont have input from DCS, but works fine from Helios.
-Fire extinguishers Test Indicator switch, dont have input from DCS, but works fine from Helios.
-Inu Update switch, only position one give input from DCS, but works fine from Helios.
-Engines throttle levers, dont have input from DCS, but works fine from Helios.
-Abris power switch, dont have input from DCS, but works fine from Helios.
-PT test Guard, dont have input from DCS, but works fine from Helios.
OTHER CONSIDERATIONS
If you use Helios and TARS or TACKVIEW you can have miss workings due to the way Helios works width the export.lua.
To prevent this, just move the lines for Tars or tackview to the very end of the export.lua in C:\Users\yourusername\Saved Games\DCS\Scripts.
CHANGE LOG on V1.01 and V1.01b NIGHT OPERATIONS:
- NIGHT OPERATIONS, all the graphics has been modified to represent the feel and look of flying at night width NVG light on and panel HSI ADI on.
- Remastered the way tactical charts works to solve a problem with a Helios bug. Now the map work well even after reset monitors
- Changed to yellow the light alarms for LH and LR VLV CLOSED
- Weapons ammo counter and radio freq on main panel only visible after entering on the cockpit
- Size adjust on some labels to avoid cliping on some resolutions
- The native resolution for the profile is now 1920x1200 for v1.01 (16:10 monitors) and 1920x1080 for the v1.o1b (10:9 monitors)